Ingredients
3 each - Various Squash (Yellow, Zucchini, etc)
1/2 cup - Roasted Red Peppers
1 cup - Fresh Spinach (rinsed)
1 loaf - Ciabatta Bread
4 oz - Goat Cheese
Salt, Black Pepper, Granulated Garlic

DRESSING
2 tsp - Balsamic Vinegar
1/4 tsp - Extra Virgin Olive Oil
1/8 tsp - Salt
1/8 tsp - Black Pepper
1/8 tsp - Oregano

Variations
Replace ciabatta bread with multi-grain to cut down on the saturated fat.
Replace the squash with portabella mushrooms.
Replace the goat cheese with mozzarella.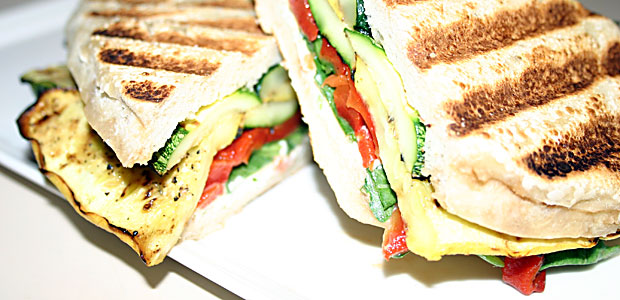 I used to think that if you wanted a tasty and filling hot sandwich without meat then you were limited to grilled cheese. Luckily that is not the case as these grilled vegetable paninis can stand up next to any deli meat sandwich in existence.
Preparation
Cut the ends off of the squash and then cut lengthwise into 1/4 inch thick slices.

Place the sliced squash on a baking sheet, spray with non-stick cooking spray and top with salt, black pepper and granulated garlic.

Slice the roasted red peppers.

Grill the squash for 4-5 minutes on each side or until tender.

Mix the dressing ingredients together and toss with spinach in a medium bowl.

Cut the ciabatta bread into sandwich sized pieces and slice open.

Assemble the sandwiches by placing a layer of squash, roasted red peppers and spinach on the bottom slice of the bread.

Spread goat cheese equally on the top halves.

Heat a lightly greased grill pan (coat with cooking spray) on medium/high heat and place a sandwich face down in the pan.

Top with a heavy cast iron skillet and lightly push down to flatten the sandwich.

After 3-4 minutes flip the sandwich. Top with the cast iron skillet and cook for an additional 3-4 minutes.

Repeat for each sandwich.

Slice sandwiches in half.
Nutritional Analysis
Nutritional Grade: B
High in calcium
High in vitamin A
Very high in vitamin C
Nutritional information is from caloriecount.com and is shown only as a guide. While accuracy was attempted, it is not guaranteed.
Nutrition Facts
Serving Size 1 sandwich (259g)
Servings Per Batch 4
Amount Per Serving
Calories 279
Calories from Fat 108
% Daily Value*
Total Fat 12.0g
18%
Saturated Fat 17.2g
86%
Trans Fat 0.0g
Cholesterol 30mg
10%
Sodium 634mg
26%
Total Carbs 29.1g
10%
Dietary Fiber 3.1g
13%
Sugars 5.2g
Protein 14.9g
Vitamin A 44%
Vitamin C 121%
Calcium 32%
Iron 16%