Ingredients
1/2 cup - Yellow Onion
2 cloves - Garlic
1 each - Jalapeño or Serrano Pepper
1 can - Black Beans
1 can - Pinto Beans
1 can - Kidney Beans
1 28oz can - Crushed Tomatoes
1 cup - Beef Broth
1 cup - Beer

CHILI SPICE
1 tsp - Chili Powder
1/2 tsp - Cumin
1/8 tsp - Cayenne Pepper
1/2 tsp - Granulated Garlic
1/2 tsp - Salt
1/4 tsp - Black Pepper

Variations
Replace beef broth with veggie broth.
Leave out peppers or substitute bell peppers if you don't like it spicy.
Leave out beer if you do not want alcohol.
Substitute the beans with fresh beans (pre-soak them and simmer for much longer).
Replace the crushed tomatoes with whole, diced or even fresh tomatoes.
Leave out the toppings to save calories.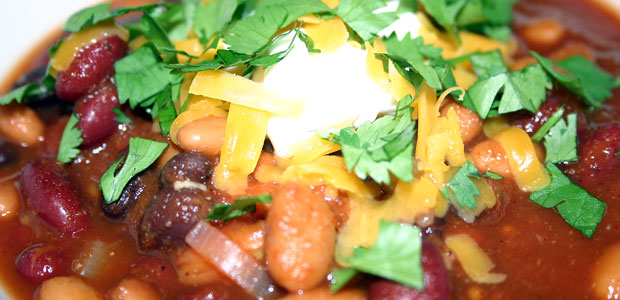 When you live in Texas, even if it's Austin which isn't anything like the rest of the state, you MUST be able to make chili. While there are many traditional meatless chilis, most people will agree that it is chock-full of some type of beef. This recipe uses three types of beans to give it some variety, no oil to make it healthier and has enough punch to make you forget that there's no meat.
Preparation
Mix the chili spice ingredients together in a small bowl and set aside.

Dice onion, garlic and jalapeño / serrano and put in another small bowl.

Rinse the beans in a colander until the foam disappears (less foam should equal less gas later).

In a soup pot or dutch oven set to medium heat on the stove, sweat the onion, garlic and pepper in 2 tbsp water until tender (4-5 minutes).

Add tomatoes and beef broth to the pot and cook for 4-5 minutes (or until it reaches a slow boil). You can raise the temperature to med/hi if you lack patience.

Add contents of chili spice bowl to the pot and stir to incorporate.

Add the rinsed beans.

Add beer (the choice is yours but I use Lone Star or Shiner to represent). Dispose of the remaining beer as you see fit.

Simmer on low for 20-30 minutes (or as long as you want). Just remember to stir every 10-15 minutes or so to avoid sticking.

Optionally, serve with sour cream, cilantro and shredded cheddar. I also recommend tortilla chips for dipping.
Nutritional Analysis*
Nutritional Grade: B+
Very low in saturated fat
No cholesterol
High in dietary fiber
High in magnesium
High in phosphorus
High in potassium
High in thiamin
Nutritional information is from caloriecount.com and is shown only as a guide. While accuracy was attempted, it is not guaranteed.
*Does not include the optional sour cream, cilantro, shredded cheddar or tortilla chips.
Nutrition Facts*
Serving Size 1/8 of the batch (329g)
Servings Per Batch 8
Amount Per Serving
Calories 609
Calories from Fat 20
% Daily Value*
Total Fat 2.2g
3%
Saturated Fat 0.0g
0%
Trans Fat 0.0g
Cholesterol 0mg
0%
Sodium 454mg
19%
Total Carbs 109.5g
36%
Dietary Fiber 27.9g
112%
Sugars 9.4g
Protein 38.2g
Vitamin A 22%
Vitamin C 25%
Calcium 23%
Iron 59%