Ingredients
1/2 each - Cabbage
1 each - Apple
1/4 cup - Red Onion

DRESSING
1/3 cup - Mayonnaise
1 tsp - Dijon Mustard
1/2 tbsp - Rice Vinegar
1 tsp - Honey
1/8 tsp - Salt
1/8 tsp - Black Pepper

Variations
Replace the mayonnaise with vegan mayo.
Replace the mayonnaise with plain yogurt.
Use red cabbage and/or granny smith apples for more color.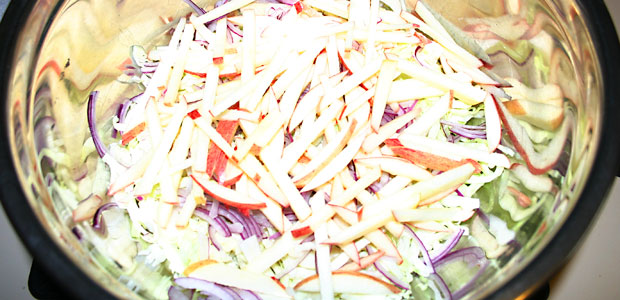 While apple slaw isn't exactly innovative it is still is a great way to incorporate more fruit into your diet. This is a zippy, crisp slaw that goes great with a myriad of items.
Preparation
Shred or slice the cabbage and put in a large bowl.

Slice the red onion and add to the bowl.

Slice the apple (except for the core) and add to bowl

Combine the dressing ingredients in a small bowl, mix well and add to the large bowl.

Toss everything together and refrigerate until ready to serve.
Nutritional Analysis
Nutritional Grade: B
Low in cholesterol
High in dietary fiber
Very high in vitamin C
Nutritional information is from caloriecount.com and is shown only as a guide. While accuracy was attempted, it is not guaranteed.
Nutrition Facts
Serving Size 1/4 of the batch (177g)
Servings Per Batch 4
Amount Per Serving
Calories 135
Calories from Fat 61
% Daily Value*
Total Fat 6.8g
10%
Saturated Fat 1.0g
5%
Trans Fat 0.0g
Cholesterol 5mg
2%
Sodium 246mg
10%
Total Carbs 19.0g
6%
Dietary Fiber 3.8g
15%
Sugars 10.9g
Protein 1.7g
Vitamin A 3%
Vitamin C 65%
Calcium 5%
Iron 4%