Ingredients
1 head - Broccoli
2 each - Yellow Squash
2 each - Carrot
2 cup - Fresh Spinach (rinsed)
4 each - White Mushrooms
1/4 cup - Roasted Red Pepper
2 cloves - Garlic
1/2 cup - Yellow Onion
4 servings - Bowtie Pasta
2 tbsp - White Wine
1 cup - Chicken Bouillon/Broth/Base
2 tbsp - Balsamic Vinegar
3 tbsp - Grated Parmesan Cheese
1 tbsp - Vegetable Oil

SPICE MIX
1/2 tsp - Oregano
1/2 tsp - Basil
1/4 tsp - Salt
1/4 tsp - Black Pepper
1/4 tsp - Crushed Red Pepper

Variations
Replace any of the vegetables with whatever you have or whatever is in season.
Replace the chicken broth with vegetable broth.
Replace bowtie pasta with pasta of your choice.
Leave out the white wine if you do not want alcohol, you can use more balsamic vinegar in place of it.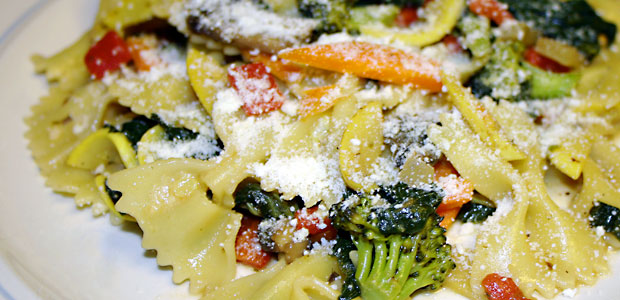 Pasta dishes lend themselves very well to being meatless. The pasta is usually substantial enough to satisfy most people and you can get away with using a large variety of vegetables, so it's a great way to clean out your veggie drawer. I do use chicken broth and dairy so this isn't a true vegetarian dish (hence the name Mostly Meatless) so feel free to substitute for those if they offend.
Preparation
Clean and slice/cut the vegetables to your liking. Try to make the sizes uniform for more consistent cooking.

Put quicker cooking vegetables (spinach, mushrooms, roasted red peppers, etc) in one medium bowl and the slower cooking (broccoli, squash, carrot, etc) in another medium bowl.

Chop garlic and onions, put in a small bowl.

In another small bowl, mix the spices together.

Cook the pasta to whatever doneness you prefer in lightly salted boiling water. Drain in a colander when done.

Put the prepped items next to the stove in order of use: garlic and onion bowl, slower cooking veggie bowl, quicker cooking veggie bowl, spice mix, chicken broth, white wine, balsamic and parmesan cheese.

Heat oil in wok or large skillet over med/hi heat. Add garlic and onion and saute for 2 minutes.

Add contents of the slower cooking veggie bowl and saute for 2 more minutes. Add in splash of water to help steam the veggies.

Once the water evaporates add in the contents of the quicker cooking veggie bowl and saute for 2-3 minutes.

Add in the spices and mix well.

Add in the white wine and reduce by half.

Add in chicken broth and balsamic vinegar.

After it comes to a boil, stir in drained pasta. Incorporate pasta with the veggies.

Stir in 2 tbsp parmesan cheese to thicken the sauce.

Serve with additional parmesan on top.
Nutritional Analysis
Nutritional Grade: B-
Very low in cholesterol
High in thiamin
Very high in vitamin A
Very high in vitamin C
Nutritional information is from caloriecount.com and is shown only as a guide. While accuracy was attempted, it is not guaranteed.
Nutrition Facts
Serving Size 1/4 of batch (336g)
Servings Per Batch 4
Amount Per Serving
Calories 314
Calories from Fat 57
% Daily Value*
Total Fat 6.3g
10%
Saturated Fat 1.5g
8%
Trans Fat 0.0g
Cholesterol 3mg
1%
Sodium 471mg
20%
Total Carbs 53.3g
18%
Dietary Fiber 5.2g
21%
Sugars 6.1g
Protein 12.7g
Vitamin A 143%
Vitamin C 86%
Calcium 10%
Iron 18%