Ingredients
1 can - Chick peas (garbanzo beans)
1 clove - Garlic
2-3 each - Fresh mint leaves
1 each - Egg
1/2 cup - Panko bread crumbs

SPICES
1/2 tsp - Oregano
1/4 tsp - Granulated garlic
1/4 tsp - Salt
1/4 tsp - Black Pepper

SAUCE
1/4 cup - Sour cream
1/2 each - Lemon
1/4 tsp - Sugar
Salt and pepper to taste

Variations
Replace egg with vegetarian options like potato starch or another egg substitute.
Replace panko bread crumbs with Italian bread crumbs and the fresh mint with fresh basil for an Italian flavor.
Replace the sour cream with plain Greek yogurt.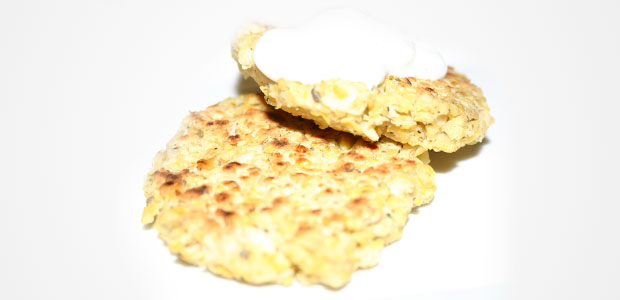 Whether you call them garbanzo beans or chick peas you are probably aware that they are a superfood. They are most commonly used in hummus and as they rise in popularity people are finding more and more uses for them. Here is one such use.
Preparation
Rinse the chick peas until the foam is gone.

Peel and chop garlic.

Wash and chop the fresh mint.

Add chick peas, garlic and mint to food processor. Mix for 20-30 seconds or until everything is broken up (but not a paste). Transfer to a large mixing bowl.

Add egg and bread crumbs to the mixture and stir to incorporate.

Add the spices to the mixture and stir to incorporate.

Divide the mixture into 8 equal parts, form each part into a patty and place on a parchment-lined sheet pan.

Refrigerate for 15-20 minutes.

Mix the sauce ingredients together in a small mixing bowl.

Spray a large skillet with cooking spray and heat to medium.

Put patties in the skillet and cook each side for 3-4 minutes or until brown.

Serve with a dollop of sauce.
Nutritional Analysis
Nutritional Grade: A-
Low in sugar
High in manganese
High in vitamin B6
Nutritional information is from caloriecount.com and is shown only as a guide. While accuracy was attempted, it is not guaranteed.
Nutrition Facts
Serving Size 2 patties (156g)
Servings Per Batch 4
Amount Per Serving
Calories 232
Calories from Fat 55
% Daily Value*
Total Fat 6.1g
9%
Saturated Fat 2.5g
13%
Trans Fat 0.0g
Cholesterol 47mg
16%
Sodium 587mg
24%
Total Carbs 36.1g
12%
Dietary Fiber 5.7g
23%
Sugars 1.5g
Protein 9.1g
Vitamin A 4%
Vitamin C 15%
Calcium 9%
Iron 14%