Ingredients
1 each - Cucumber
1 each - Orange
1/3 cup - Cashews
1 tsp - Fresh Mint

DRESSING
1/4 cup - Rice Vinegar
1 tsp - Vegetable Oil
1/4 tsp - Chili Garlic Sauce
1/4 tsp - Sesame Oil
1/2 tsp - Fish Sauce
1/2 tsp - Honey
Juice of 1/2 Lime

Variations
Replace orange with grapefruit or tangerine.
Replace cashews with peanuts.
Replace fresh mint with fresh cilantro.
Add some green, yellow or red bell peppers.
Replace fish sauce with soy sauce.
Replace honey with sugar or agave nectar.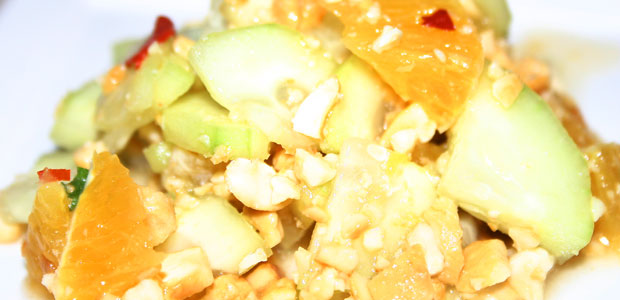 This is a refreshing and healthy salad or side dish with bright, clean flavors that is high in vitamin C. It will stand up to strong and exotic Indian dishes, blend well with a hot Thai curry recipe or work as a starter for any other entree.
Preparation
Whisk dressing ingredients together in a small bowl.

Peel, slice and quarter cucumber and place in medium bowl.

Peel orange and then cut out segments. To segment an orange, you make slices on the inside of each piece and then remove the middle flesh. Cut each segment into bite sized pieces and add to the bowl with the cucumber.

Chop fresh mint leaves and add to bowl with the cucumber and orange.

Toss cucumber mixture with the dressing.

Crush cashews and add to bowl right before serving.
Nutritional Analysis
Nutritional Grade: B
No cholesterol
Very high in vitamin C
Nutritional information is from caloriecount.com and is shown only as a guide. While accuracy was attempted, it is not guaranteed.
Nutrition Facts
Serving Size 1/4 of the batch (161g)
Servings Per Batch 4
Amount Per Serving
Calories 129
Calories from Fat 62
% Daily Value*
Total Fat 6.9g
11%
Saturated Fat 1.4g
7%
Trans Fat 0.0g
Cholesterol 0mg
0%
Sodium 96mg
4%
Total Carbs 14.2g
5%
Dietary Fiber 2.1g
8%
Sugars 7.5g
Protein 2.8g
Vitamin A 4%
Vitamin C 48%
Calcium 4%
Iron 6%