Ingredients
1 each - Eggplant
1 each - Egg
1/2 cup - Bread Crumbs
1 tsp - Dried Oregano
1 tsp - Dried Basil
1 tsp - Granulated Garlic
1/4 tsp - Salt
1/4 tsp - Black Pepper
2 tbsp - Grated Parmesan Cheese
1/4 lb - Sliced Provolone

SAUCE
1 cup - Crushed Tomatoes
1 clove - Garlic (chopped)
1/2 tsp - Dried Oregano
1/2 tsp - Dried Basil
1 tbsp - Red Wine
1/2 tbsp - Balsamic Vinegar

Variations
Replace provolone cheese with mozzarella.
Replace crushed tomatoes with whole, diced or fresh.
Remove red wine if you do not want any alcohol.
Use fresh basil and oregano in place of dried.
Use whole wheat pasta.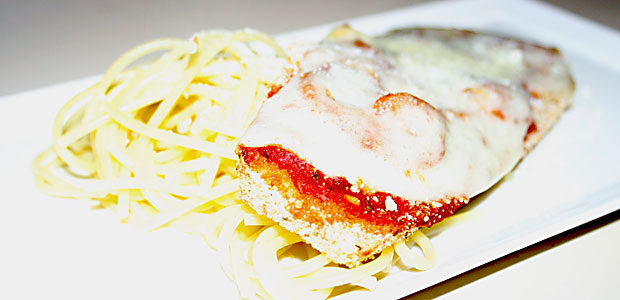 I knew going Mostly Meatless would mean giving up my beloved chicken parm for the eggplant variety. I also knew that being healthier would mean trading pan fried for baked. Both of these compromises are really hard to take but I think this recipe helps ease the pain. One thing I have not been able to do is give up the semolina pasta…
Preparation
Peel and slice the eggplant lengthwise.

Whisk egg with 2 tbsp water in a small container.

Add oregano, basil, granulated garlic, salt and pepper to the bread crumbs in another small container.

Dip each eggplant slice into the egg wash and let excess drip off.

Dip slice into the breadcrumbs and then place on a lightly oiled baking sheet.

Bake for 20 minutes (or until brown) at 350-375. Flip and bake an additional 20 minutes (or until brown).

While eggplant is baking, add sauce ingredients to a medium sauce pan, mix well and simmer for 15-20 minutes. Stir every few minutes to keep from sticking.

Ladle half the sauce (reserve the remaining sauce) over the eggplant.

Add 1 tbsp of grated Parmesan cheese and then top with sliced provolone cheese.

Bake for 10-15 minutes or until cheese starts to brown.

Serve over pasta of choice with remaining sauce and Paremsan cheese.
Nutritional Analysis*
Nutritional Grade: B-
High in dietary fiber
High in calcium
Nutritional information is from caloriecount.com and is shown only as a guide. While accuracy was attempted, it is not guaranteed.
*Does not include pasta.
Nutrition Facts*
Serving Size 1/4 of the batch (241g)
Servings Per Batch 4
Amount Per Serving
Calories 241
Calories from Fat 93
% Daily Value*
Total Fat 10.4g
16%
Saturated Fat 5.8g
29%
Trans Fat 0.0g
Cholesterol 63mg
21%
Sodium 671mg
28%
Total Carbs 23.4g
8%
Dietary Fiber 6.9g
27%
Sugars 7.5g
Protein 14.3g
Vitamin A 21%
Vitamin C 13%
Calcium 33%
Iron 14%