Ingredients
2 each - Hass Avocados
1 clove - Garlic
1 tbsp - Red Onion
1/4 each - Jalapeño Pepper
2 tbsp - Fresh Cilantro
1/8 tsp - Salt
1/8 tsp - Black Pepper
1/8 tsp - Cumin
1/2 each - Lime

Variations
Add diced tomatoes.
Mix with salsa to make guaca-salsa.
Add some chili powder or cayenne to spice it up.
Add some sour cream to make it more of a dip.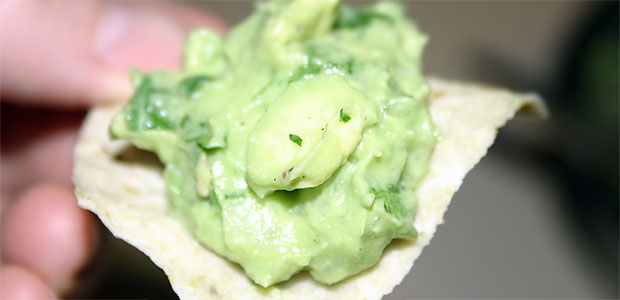 Guacamole is an extremely versatile item that works great as a topping to an entree, as a spread for a sandwich or taco, in a salad and by itself with chips. I personally believe it should be kept simple to let the avocado shine through and this is reflected in the recipe below.
Preparation
Halve and remove pit from the avocados.

Criss-cross each avocado half with a butter knife and then scoop out into a medium bowl.

Finely chop garlic, red onion and jalapeño. Add to the bowl.

Clean and chop the cilantro and add to the bowl.

Add salt, black pepper and cumin to the bowl.

Squeeze lime into the bowl.

Mix well with a spoon.
Nutritional Analysis
Nutritional Grade: C
No cholesterol
Low in sugar
Very high in dietary fiber
Very high in vitamin C
Nutritional information is from caloriecount.com and is shown only as a guide. While accuracy was attempted, it is not guaranteed.
Nutrition Facts
Serving Size 1/4 of the batch (28g)
Servings Per Batch 4
Amount Per Serving
Calories 33
Calories from Fat 23
% Daily Value*
Total Fat 2.5g
4%
Saturated Fat 0.5g
3%
Trans Fat 0.0g
Cholesterol 0mg
0%
Sodium 74mg
3%
Total Carbs 3.0g
1%
Dietary Fiber 1.9g
7%
Sugars 0g
Protein 0.7g
Vitamin A 1%
Vitamin C 8%
Calcium 1%
Iron 1%