Ingredients
1 each - Mango
1 tbsp - Red Onion
1/4 each - Jalapeño Pepper
2 tbsp - Fresh Cilantro
1/8 tsp - Salt
1/8 tsp - Black Pepper
1/2 each - Lime

Variations
Replace mango with papaya, pineapple or use all three together.
Replace jalapeño pepper with serrano pepper.
Add some green, yellow or red bell pepper.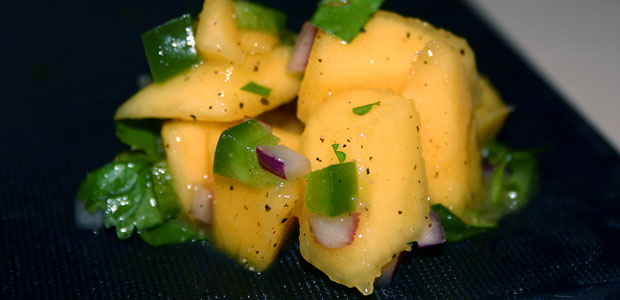 Mangoes are tough little buggers to remove the flesh from the pit but it's well worth it for this sweet side dish. It works great as a topping to black bean patties, as a side dish or even as a palette cleansing salad.
Preparation
Cut the ends off of the mango, stand in upside down and peel it with a knife.

Slice pieces off of the mango cutting where there is the least resistance. Keep cutting off pieces until only the pit remains (it will be bigger than you would like it to be and you will feel like you are wasting a lot but that's just the way it goes with mangoes).

Dice mango pieces and put them in a medium bowl.

Finely chop red onion and jalapeño. Add to the bowl.

Clean and chop the cilantro and add to the bowl.

Add salt and black pepper to the bowl.

Squeeze lime into the bowl.

Mix well with a spoon.
Nutritional Analysis
Nutritional Grade: A-
Very low in saturated fat
No cholesterol
High in dietary fiber
High in vitamin A
High in vitamin B6
Very high in vitamin C
Nutritional information is from caloriecount.com and is shown only as a guide. While accuracy was attempted, it is not guaranteed.
Nutrition Facts
Serving Size 1/4 of the batch (89g)
Servings Per Batch 4
Amount Per Serving
Calories 48
Calories from Fat 2
% Daily Value*
Total Fat 0.2g
0%
Saturated Fat 0.0g
0%
Trans Fat 0.0g
Cholesterol 0mg
0%
Sodium 76mg
3%
Total Carbs 12.4g
4%
Dietary Fiber 1.7g
7%
Sugars 9.0g
Protein 0.7g
Vitamin A 9%
Vitamin C 32%
Calcium 2%
Iron 1%