Ingredients
4 oz - Portabella Mushroom
4 oz - White Mushroom
1/2 each - Poblano Pepper
1 can (7oz) - Salsa Verde
1/2 cup - Chicken Broth
1/4 tsp - Corn Starch
1 tbsp - Sour Cream
1 tbsp - Vegetable Oil
3 cups - Fresh Spinach (rinsed)
8 each - Corn Tortillas
1 cup - Queso Fresco

SPICE MIX
1/4 tsp - Cumin
1/4 tsp - Chili Powder
1/4 tsp - Granulated Garlic
1/8 tsp - Salt
1/8 tsp - Black Pepper

Variations
Replace chicken broth with vegetable or mushroom broth.
Replace poblano pepper with jalapeno to make spicier or bell pepper for less spicy.
Replace queso fresco with shredded cheddar, jack or mixture.
Replace sour cream with plain yogurt.
Replace salsa verde with enchilada sauce or green chilies.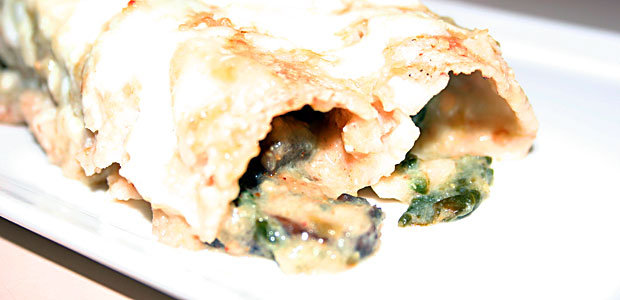 Enchiladas are another TexMex staple and it is relatively easy to find meatless ones in restaurants. The trick though is to try to make them healthier while still maintaining the enchilada-ness of it all. This recipe combines some authentic ingredients and techniques with a few healthier changes to make a Mostly Meatless masterpiece.
Preparation
Combine spice mix ingredients in a small bowl and set aside.

Slice portabella and white mushrooms and put in a medium bowl.

Dice poblano and add to the bowl.

In a medium saucepan over medium heat bring the salsa verde and chicken broth to a boil.

Combine corn starch and 1 tbsp water (no lumps) in a small bowl and stir into the saucepan mixture.

Remove saucepan from the heat, add sour cream and whisk together to incorporate.

Heat oil in a large skillet over medium-high heat.

Add the mushroom/pepper mixture and cook for 4-5 minutes or until tender.

Add spinach and 2 tbsp water and cook for 3-4 minutes or until water is almost dissolved.

Add spice mix, stir well and remove from heat.

Warm tortillas in a skillet over medium-low heat to make more pliable. If you lightly wet the tortillas first, it works better.

Add 1/8th of the mushroom mixture to each tortilla with a little bit of the queso fresco. Roll up the tortilla and place in a lightly greased casserole dish.

Cover with the sauce.

Top with the remaining queso fresco.

Bake for 20-25 minutes at 375 degrees or until cheese starts to brown.
Nutritional Analysis
Nutritional Grade: B
High in vitamin A
High in vitamin C
Nutritional information is from caloriecount.com and is shown only as a guide. While accuracy was attempted, it is not guaranteed.
Nutrition Facts
Serving Size 2 enchiladas (280g)
Servings Per Batch 4
Amount Per Serving
Calories 282
Calories from Fat 99
% Daily Value*
Total Fat 11.0g
17%
Saturated Fat 4.4g
22%
Trans Fat 0.0g
Cholesterol 21mg
7%
Sodium 742mg
31%
Total Carbs 28.1g
9%
Dietary Fiber 4.6g
18%
Sugars 2.7g
Protein 16.5g
Vitamin A 53%
Vitamin C 46%
Calcium 8%
Iron 12%