Ingredients
1/4 cup - Yellow Onion
1 clove - Garlic
3/4 pound - Portabella Mushrooms
1/2 cup - Sour Cream
1 tbsp - Flour
1 tbsp - Vegetable Oil
1 tbsp - White Wine
8 oz - Egg Noodles

SAUCE
3/4 cup - Beef Broth
2 tsp - Tomato Paste
1 tsp - Soy Sauce
1/2 tsp - Worcestershire Sauce
1/8 tsp - Thyme
1/8 tsp - Salt
1/8 tsp - Black Pepper

Variations
Replace the beef broth with vegetable or mushroom broth.
Replace the sour cream with plain yogurt.
Replace the worcestershire sauce with soy sauce.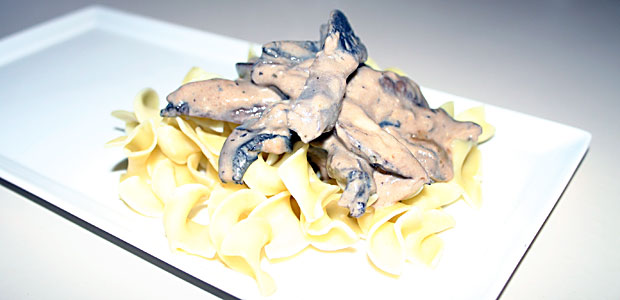 While some of the recipes on this site come pretty close to vegan, others (like this one) fail miserably. I could have worked harder to make this stroganoff totally meatless (and healthier) but I feel that it would be too much of a compromise in flavor. The point of Mostly Meatless is to help people make the transition and I think you need dishes like this from time to time to make the transition easier.
Preparation
Dice onion and garlic and put in a small bowl.

Slice portabellas into 1/4 inch strips.

Combine the sauce ingredients in a small bowl and mix well.

Whisk sour cream and flour together in another small bowl (this will stop the sour cream from breaking).

Heat oil in a large skillet over medium-high heat.

Saute onion and garlic for 1-2 minutes.

Add portabellas and cook for 3-4 minutes (or until tender).

Add wine and reduce by half.

Add contents of the sauce bowl and cook for 2-3 minutes.

Turn the heat down to low and stir in the sour cream mixture.

While simmering, cook egg noodles in a pot of boiling water until tender.

Drain the noodles in a colander.

Serve the stroganoff over noodles.
Nutritional Analysis
Nutritional Grade: C*
High in niacin
High in riboflavin
High in selenium
*If you replace the sour cream with plain yogurt then the nutritional grade is a B.
Nutritional information is from caloriecount.com and is shown only as a guide. While accuracy was attempted, it is not guaranteed.
Nutrition Facts
Serving Size 1/4 of the batch (237g)
Servings Per Batch 4
Amount Per Serving
Calories 217
Calories from Fat 100
% Daily Value*
Total Fat 11.1g
17%
Saturated Fat 4.8g
24%
Trans Fat 0.0g
Cholesterol 29mg
10%
Sodium 326mg
14%
Total Carbs 23.3g
8%
Dietary Fiber 2.3g
9%
Sugars 2.8g
Protein 7.1g
Vitamin A 5%
Vitamin C 3%
Calcium 5%
Iron 7%