Ingredients
16 oz - Rotini
1 each - Broccoli Stalk
2 tbsp - Red Onion (diced)
1/4 cup - Artichoke Hearts (diced)
1/4 cup - Roasted Red Pepper (diced)
2 each - Peperoncinis (diced)
1/4 cup - Gorgonzola Crumbles
2 tbsp - Parmesan

DRESSING
2 tbsp - Olive Oil
2 tbsp - Red Wine Vinegar
1 tbsp - Balsamic Vinegar
1/2 - Lemon
1 tsp - Honey
1 tsp - Dijon Mustard
1/4 tsp - Oregano
1/4 tsp - Basil
1/8 tsp - Granulated Garlic
1/8 tsp - Black Pepper
1/8 tsp - Salt

Variations
Replace pasta with gluten-free, wheat or any other pasta that you prefer.
Substitute any fresh vegetable (carrots, celery, mushrooms, cauliflower, etc).
Replace Gorgonzola cheese with feta, mozzarella, etc.
Use more/less olive oil depending on taste/health preferences.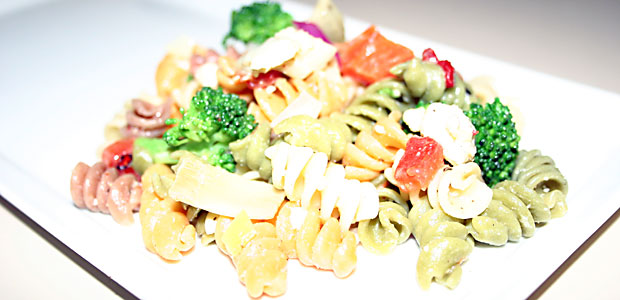 In my meat-eating past, pasta salad ALWAYS featured chicken. It was my go to recipe for leftover chicken whether it was grilled, baked or sauteed. I was skeptical that it would be as filling without the poultry but there is still enough substance in this recipe to satisfy.
Preparation
Cook pasta until tender. Drain and chill.

Cut the broccoli into bite-sized florets and put into a microwave-safe bowl. Add 1/2 cup of water and cook for 1 minute. Stir well to coat each piece. Drain and rinse with cold water.

Mix dressing ingredients together in a small bowl and set aside.

Put chilled pasta into a large mixing bowl.

Add chilled broccoli florets.

Add diced red onion.

Add diced roasted red pepper.

Add diced artichoke hearts.

Add diced peperoncinis.

Add Gorgonzola cheese crumbles.

Add grated Parmesan.

Toss well to mix everything together.

Add dressing and toss again.
Nutritional Analysis
Nutritional Grade: A-
Low in sugar
High in thiamin
Very high in vitamin C
Nutritional information is from caloriecount.com and is shown only as a guide. While accuracy was attempted, it is not guaranteed.
Nutrition Facts
Serving Size 1/8 of recipe (134g)
Servings Per Batch 8
Amount Per Serving
Calories 229
Calories from Fat 57
% Daily Value*
Total Fat 6.3g
10%
Saturated Fat 1.6g
8%
Trans Fat 0.0g
Cholesterol 46mg
15%
Sodium 136mg
6%
Total Carbs 34.7g
12%
Dietary Fiber 1.0g
4%
Sugars 1.6g
Protein 8.5g
Vitamin A 7%
Vitamin C 49%
Calcium 6%
Iron 12%