Ingredients
2 each - Summer squash and/or zucchini
1/4 cup - Red onion (diced)
1 clove - Garlic (chopped)
2 tbsp - Red bell pepper (diced)
6 each - White mushroom
1/8 tsp - Salt
1/8 tsp - Black pepper
1/8 tsp - Granulated garlic
1/3 cup - Breadcrumbs
1 tsp - Grated parmesan cheese
1 each - Egg

Variations
Use panko bread crumbs instead of regular bread crumbs.
Replace egg with vegetarian options like potato starch or another egg substitute.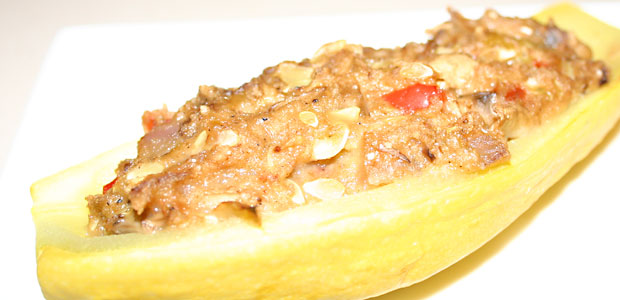 Stuffed squash is a great marriage of nutrients and flavor. It makes a great side to many entrees both with meat and without. They also reheat very well and can serve as a lunch or quick snack.
Preparation
Preheat the oven to 350 degrees.

Clean the squash, cut off the ends and slice in half.

Scoop out the insides into a mixing bowl.

Place the squash open side down in a microwave safe dish and add 1/4 inch of water. Microwave for 5-6 minutes or until tender.

While the squash is cooking, break the squash insides into smaller pieces (use your hands).

Add a little bit of cooking spray to a skillet, heat to med/hi and add the red onion, garlic and red bell pepper.

Chop mushrooms, add to the skillet and add a little bit of water (to keep from drying).

Add the squash insides to the skillet.

Add salt, pepper and granulated garlic to the skillet.

Empty skillet into a mixing bowl and let cool (at least 5 minutes).

Add breadcrumbs and parmesan cheese to bowl and mix well.

Add egg and stir well.

Add the filling to the squash pieces (drain water from dish).

Bake for 20 minutes or until the stuffing is lightly browned.
Nutritional Analysis
Nutritional Grade: A
High in manganese
High in niacin
High in phosphorus
High in potassium
Very high in riboflavin
High in selenium
High in thiamin
High in vitamin B6
Very high in vitamin C
Nutritional information is from caloriecount.com and is shown only as a guide. While accuracy was attempted, it is not guaranteed.
Nutrition Facts
Serving Size 1/4 of the batch (158g)
Servings Per Batch 4
Amount Per Serving
Calories 81
Calories from Fat 18
% Daily Value*
Total Fat 2.0g
3%
Saturated Fat 0.6g
3%
Trans Fat 0.0g
Cholesterol 41mg
14%
Sodium 173mg
7%
Total Carbs 12.1g
4%
Dietary Fiber 2.0g
8%
Sugars 3.3g
Protein 5.0g
Vitamin A 8%
Vitamin C 40%
Calcium 5%
Iron 7%