Ingredients
1/2 cup - Yellow Onion (diced)
1/4 cup - Celery (diced)
1/4 cup - Carrot (diced)
2 cloves - Garlic (chopped)
1 - Poblano pepper (diced)
1 cup - Tomato juice (or V8)
1 can (28oz) - Crushed tomatoes
1 cup - Vegetable broth
1 can (14oz) - Yellow corn
2 each - Corn tortillas
1 tbsp - Fresh cilantro (chopped)

SPICES
1/2 tsp - Chili powder
1/4 tsp - Cumin
1/4 tsp - Granulated garlic
1/8 tsp - Salt
1/8 tsp - Black pepper

Variations
To make spicier, substitute Spicy V8 for the tomato juice.
Replace the canned crushed tomatoes with diced, whole or fresh tomatoes.
Replace the Poblano pepper with Jalapeño, serrano, hatch or any other peppers.
Replace the vegetable broth with chicken broth.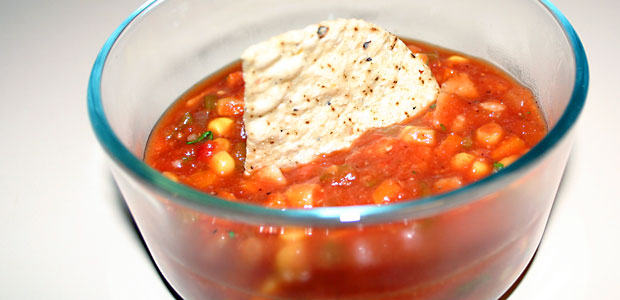 Tortilla soup is another TexMex staple. While it's normally chock-full of shredded chicken, the real key to a good batch is the interplay between the spicy tomato broth and the dissolved tortilla pieces.
Preparation
Add onion, celery, carrot and garlic to a dutch oven or large pot with 1/2 cup of water. Cook at medium heat for 6-8 minutes or until tender (stir frequently).

Dice poblano and add to the pot. Cook until water is dissolved.

Add tomato juice and cook for an additional 6-8 minutes.

Add crushed tomatoes (I prefer to blend first).

Add the vegetable broth.

Add the corn (draining is optional).

Mix the spices together and add to the soup.

Cut the tortillas into 1/2″ pieces and add to the soup.

Turn stove to low and simmer for at least 30 minutes. If you cook for longer you may need to add some water.

Add the chopped cilantro right before serving (too soon and it will lose it's bright green color).

Optionally, squeeze 1/2 lime into soup before serving.
Nutritional Analysis
Nutritional Grade: A-
Very low in saturated fat
No cholesterol
High in dietary fiber
High in iron
Very high in vitamin A
Very high in vitamin C
Nutritional information is from caloriecount.com and is shown only as a guide. While accuracy was attempted, it is not guaranteed.
Nutrition Facts
Serving Size 1/8 of the batch (241g)
Servings Per Batch 8
Amount Per Serving
Calories 116
Calories from Fat 9
% Daily Value*
Total Fat 1.0g
1%
Saturated Fat 0g
0%
Trans Fat 0.0g
Cholesterol 0mg
0%
Sodium 574mg
24%
Total Carbs 24.3g
8%
Dietary Fiber 5.2g
21%
Sugars 9.3g
Protein 5.3g
Vitamin A 37%
Vitamin C 47%
Calcium 7%
Iron 13%