Ingredients
2 each - Fresh Corn
2 each - Zucchini
10 each - White Mushrooms
1 each - Green Bell Pepper
1/4 each - Red Onion
1/4 cup - Ponzu Sauce

Variations
Replace or add any vegetable that you think will grill well. Yellow squash, portabella mushrooms, tomato slices are all great options.
Replace ponzu sauce with soy sauce, teriyaki sauce or barbecue sauce.
Bake in a 350 degree oven instead of grilling.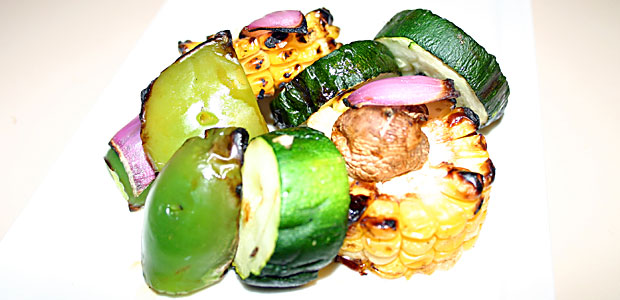 Kabob or Kebab… From the limited research I did I gathered that a kebab is the legitimate spelling (based on Arabic) and literally translates to roasted meat. Since this recipe is vegetarian I figured the American spelling would be more fitting.
Preparation
Soak 8 bamboo skewers in water (or use metal skewers which do not need soaking).

Par cook the corn by bringing to a boil and turning off the heat.

Slice the zucchini in 1/2 inch pieces.

Cut the mushrooms in half.

Slice green pepper into 1 inch squares.

Slice the red onion into 1 inch pieces.

Slice each corn into 8 even pieces.

Use a knife to create a starter hole in the middle of each piece.

Evenly distribute the vegetables into 8 piles and carefully skewer them, alternating the veggies to make things pretty.

Grill over medium heat and brush with ponzu sauce. Grill for 10 minutes or until the zucchini is tender.
Nutritional Analysis
Nutritional Grade: A
Low in saturated fat
No cholesterol
High in dietary fiber
Very high in vitamin A
High in vitamin B6
Very high in vitamin C
High in manganese, magnesium, niacin, pantothenic acid, phosphorus, potassium, riboflavin and thiamin
Nutritional information is from caloriecount.com and is shown only as a guide. While accuracy was attempted, it is not guaranteed.
Nutrition Facts
Serving Size 2 kabobs (266g)
Servings Per Batch 4
Amount Per Serving
Calories 102
Calories from Fat 11
% Daily Value*
Total Fat 1.3g
2%
Saturated Fat 0.0g
0%
Trans Fat 0.0g
Cholesterol 0mg
0%
Sodium 194mg
8%
Total Carbs 21.3g
7%
Dietary Fiber 4.2g
17%
Sugars 6.3g
Protein 5.2g
Vitamin A 25%
Vitamin C 102%
Calcium 2%
Iron 6%