Ingredients
1/4 - Chopped Yellow Onion
2 cloves - Garlic
1 tbsp - Fresh Ginger
1 head - Broccoli
1 each - Carrot
1/4 each - Green Bell Pepper
1 cup - Fresh Spinach (rinsed)
1 head - Bok Choy
10 each - White Mushrooms
1 tbsp - Vegetable Oil
2 cups - Rice or Noodles

SAUCE
1/2 cup - Chicken Broth/Bouillon/Base
1 tbsp - Apple Juice
1 tbsp - Oyster Sauce
1 tbsp - Soy Sauce
1 tsp - Sesame Oil
1 tsp - Chili Garlic Sauce
2 tsp - Corn Starch

Variations
Use low sodium soy sauce.
Replace chicken broth with vegetable broth.
Add tofu if you want some more bulk.
Replace any of the veggies with whatever you have on hand or whatever is in season.
Add standard Asian ingredients like bamboo shoots, water chestnuts or baby corn.
Replace bok choy with napa or regular cabbage.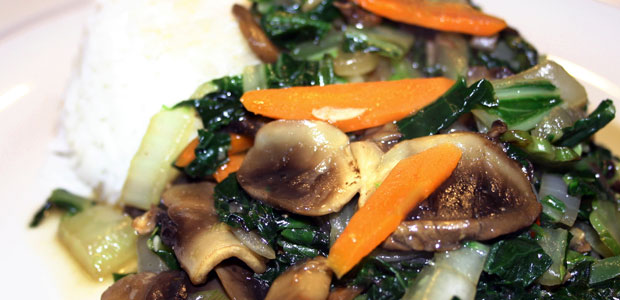 Stir fries are a great way to use up vegetables and a great introduction to a Mostly Meatless, almost vegetarian meal. In the past, chicken was my go to meat for stir fries but I also used different cuts of beef, pork and shrimp. To make up for the loss of meat, I used both a larger variety and a larger quantity of vegetables.
Preparation
Dice onion, chop garlic and ginger and put in a small bowl.

Chop up broccoli. Cut the florets bite-sized and thinly slice some of the stalk. Put the florets in one medium bowl and put the sliced stalks into another medium bowl.

Peel and slice the carrot, dice the bell pepper and add to the bowl with the broccoli stalks.

Cut up the spinach and mushrooms and add to the bowl with the florets.

Clean bok choy very well and then slice in half length-wise and then slice thinly across the width. It's quicker if you stack the leaves. Also, remove the bottoms but leave some of the white. Put in it's own bowl.

Mix sauce ingredients together in a small bowl.

You should now have 5 bowls and be ready for assembly. The key to stir fry is having everything ready to go.

Heat oil in a wok or large skillet over high heat.

Add contents of onion bowl to the wok and stir fry for 2 minutes.

Add contents of carrot bowl to the wok and stir fry for 3 minutes.

Add 1 tbsp of water to the wok to help steam the vegetables. This is helpful when you use less oil.

Add contents of mushroom bowl to the wok and stir fry for 2 minutes.

Add bok choy and stir fry for 2 minutes.

Make sure corn starch is mixed in with the sauce (use your fingers to make sure there are no lumps). Add sauce to the wok and mix in well.

Bring to a boil to thicken and then turn off the heat.

Serve over rice or noodles.
Nutritional Analysis
Nutritional Grade: A
Low in saturated fat
No cholesterol
High in manganese
Very high in vitamin A
Very high in vitamin C
Nutritional information is from caloriecount.com and is shown only as a guide. While accuracy was attempted, it is not guaranteed.
Nutrition Facts
Serving Size 1/4 of batch (442g)
Servings Per Batch 4
Amount Per Serving
Calories 453
Calories from Fat 55
% Daily Value*
Total Fat 6.1g
9%
Saturated Fat 1.2g
6%
Trans Fat 0.0g
Cholesterol 0mg
0%
Sodium 541mg
23%
Total Carbs 87.3g
29%
Dietary Fiber 5.1g
20%
Sugars 5.5g
Protein 12.9g
Vitamin A 258%
Vitamin C 196%
Calcium 27%
Iron 37%