Ingredients
1 bunch - Fresh Spinach (Rinsed)
1/2 cup - Dried Cranberries
1/2 cup - Gorgonzola Crumbles
1 cup - Sunflower Sprouts
1 each - Hass Avocado

DRESSING
1/4 cup - Red Wine Vinegar
1 tbsp - Extra Virgin Olive Oil
1/2 tsp - Dijon Mustard
1 tsp - Honey

Variations
Replace sunflower sprouts with bean sprouts or any other sprout.
Replace gorgonzola cheese with feta or bleu cheese crumbles.
Replace walnuts with pecans.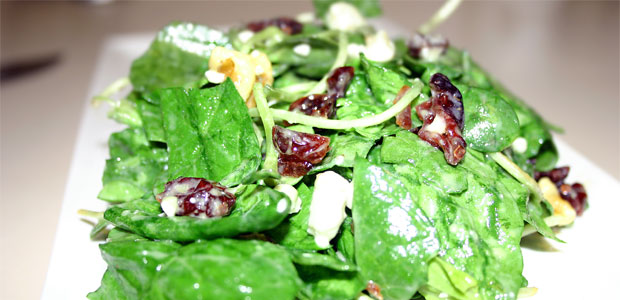 We used to loooooove eating a hot spinach salad that was loaded with bacon and more importantly, bacon fat. Just thinking about it makes me salivate so I really needed to find a healthy, vegetarian spinach salad that could stand up next to the legend. This chilled salad is completely different but it too has become legendary in it's own right: the hot spinach salad's cool, hipper brother.
Preparation
De-stem spinach, rip into bite sized pieces, rinse well and add to a large bowl.

Chop dried cranberries and add to the bowl.

Add gorgonzola cheese and sunflower sprouts to the bowl.

Halve, remove pit and dice avocado. Add to bowl.

Mix dressing ingredients together in a small bowl.

Toss the salad with the dressing.

Mix in walnuts right before serving.
Nutritional Analysis
Nutritional Grade: B+
High in calcium
High in dietary fiber
High in manganese
High in magnesium
Very high in vitamin A
Very high in vitamin C
Nutritional information is from caloriecount.com and is shown only as a guide. While accuracy was attempted, it is not guaranteed.
Nutrition Facts
Serving Size 1/4 of the batch (156g)
Servings Per Batch 4
Amount Per Serving
Calories 153
Calories from Fat 99
% Daily Value*
Total Fat 11.0g
17%
Saturated Fat 4.8g
24%
Trans Fat 0.0g
Cholesterol 20mg
7%
Sodium 342mg
14%
Total Carbs 8.2g
3%
Dietary Fiber 4.0g
16%
Sugars 2.3g
Protein 7.8g
Vitamin A 165%
Vitamin C 43%
Calcium 19%
Iron 13%