Ingredients
1/2 each - Yellow Onion
1/2 each - Green Bell Pepper
1 clove - Garlic
1/2 each - Serrano or Jalapeño
1 cup - Fresh Spinach (rinsed)
3 each - Portabella Mushrooms
1 tbsp - Vegetable Oil
1/2 each - Lime
1 tbsp - Soy Sauce
2 tbsp - Beef Broth
8 each - Flour Tortillas (Fajita sized)
1/4 cup - Queso Fresco
1/4 cup - Chopped Cilantro
Guacamole
Variations
Replace portabella mushrooms with tofu, tempah or any other fake meat.
Replace beef broth with mushroom or vegetable broth.
Replace flour tortillas with whole wheat or corn.
Replace queso fresco with shredded cheddar/jack.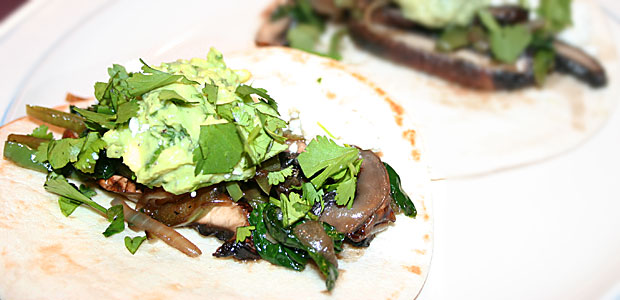 Chicken fajitas are one of my favorite TexMex dishes so I knew I would have to find a way to enjoy a Mostly Meatless version of them. I decided that grilled portabella mushrooms would be the perfect substitute for the chicken, they are a very "meaty" mushroom and are great sponges for flavor. To make the dish healthier I also removed the sour cream and replaced the cheddar/jack with a more authentic queso fresco.
I am really, really happy with how they came out. The portabellas really work well and are substantial enough to make even the carnivoriest carnivore grunt their approval. Enjoy these spinach & portabella fajitas!
Preparation
Slice onion and green bell pepper in thin, uniform pieces.

Chop garlic and serrano/jalapeño.

Lightly chop spinach.

Grill whole, cleaned portabellas until tender (3-4 minutes per side). Remove from the grill and let cool.

Slice portabellas into thin, uniform pieces.

In a wok or large skillet, heat vegetable oil over medium-high heat. Add onion and green bell pepper and cook for 2-3 minutes.

Add garlic and serrano/jalapeño. Cook for 2-3 minutes.

Add spinach and portabellas. Cook for 2-3 minutes.

Add the juice of the half lime, soy sauce and beef broth. Bring to a boil and then remove from heat.

In a clean skillet, warm the tortillas over medium heat.

To assemble, place the fajita mixture in the middle of a warm tortilla and top with queso fresco, cilantro and guacamole.
Nutritional Analysis
Nutritional Grade: A
Very low in cholesterol
High in dietary fiber
High in phosphorus
High in vitamin C
Nutritional information is from caloriecount.com and is shown only as a guide. While accuracy was attempted, it is not guaranteed.
Nutrition Facts
Serving Size 2 Fajitas (295g)
Servings Per Batch 4
Amount Per Serving
Calories 383
Calories from Fat 136
% Daily Value*
Total Fat 15.1g
23%
Saturated Fat 3g
15%
Trans Fat 0.0g
Cholesterol 5mg
2%
Sodium 368mg
15%
Total Carbs 54.8g
18%
Dietary Fiber 11.6g
46%
Sugars 4g
Protein 11.8g
Vitamin A 28%
Vitamin C 51%
Calcium 11%
Iron 13%